Greetings from California!
Haven't seen
(you know what I mean)
you people in a while!
I've been busy, busy, busy around here... and I'm mentally preparing myself to write a very long post with lots of pictures when I get back.
But for now, let's talk Team USA.
I'm a huge Olympics fan. My whole family is. I remember times as a little kid when we would buy a Marie Callender's pie and sit on a blanket in the family room and watch the Olympics while enjoying good ol' Chocolate Satin.
And I got to stay up almost as late as New Year's. haha.
It's kind of a bummer that we ended up going to California the exact two weeks as the Olympics... but I've still been able to tune in pretty often.
I have to say that at first I was like, "
huh??
" while watching the Opening Ceremonies... but it came together nicely and ended up being really cool.
Anyways. My little sister is big into gymnastics. She pretty much dedicates her whole life to it, actually, so we were pretty excited to watch the women's team compete. We've known for a while that they were supposed to be really good this year... and holy crap are they ever.
We freaked when they won gold as a team. That hasn't happened since 1996, you know.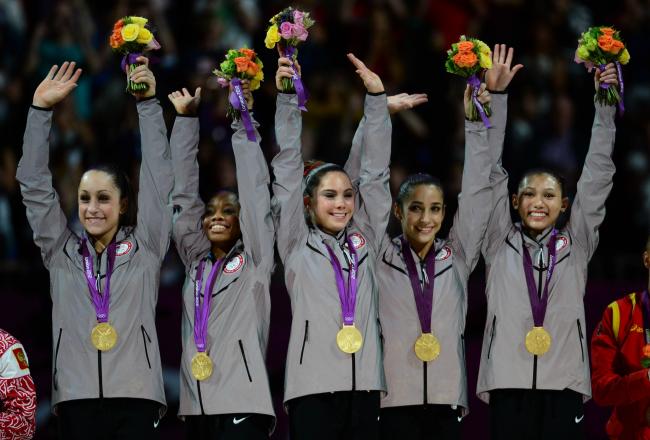 Oh. and I like swimming. Of course, I always root for the Americans, but I was super happy when that
Le Clos
guy from South Africa beat Michael Phelps yesterday. It was his first Olympics and probably his first gold. But the best was his
dad
. He was so proud... the cameras showed him crying in the stands... and he used the flag he was holding to wipe his tears. It was cute.
Apparently that was the first major race Michael Phelps has lost in
ten
years... he's now officially the greatest Olympian of all time... and I'm a fan of his and all... but it's fun when some other kids get the gold for a change... :) haha.
But yeah. I liked watching the kayaking, too. (It seems to be a pretty hectic sport!)
Are any of you Olympics fans? What do you like watching?
See you soon...