Remember the
Beautiful Heartbreak
video from
this
post? Well... the reason that I decided to do Stephanie Nielson as part two... is because you all saw her in it. She also has a really great blog...
nieniedialogues.blogspot.com
. In it, she always refers to her husband as "Mr. Nielson." Cute.
-------------------------------------
Stephanie Nielson was born, raised, and married in Provo, Utah. She is the eighth of nine children born to Stephen and Cynthia Clark. She is a popular blogger and author of nieniedialogues.com. She began blogging in 2005 while living in New Jersey as a way to keep her and her husband's family informed about their life in the East.
From 2005 to 2008, her blog steadily grew in popularity and readership. Her blog entries are a naturally portrayal of life as a wife, mother, Mormon, daughter, sister, and citizen. They are filled with pictures and images that represent the common joys in the roles of her life.
In the summer of 2008 she and her husband, Christian, were involved in a serious airplane accident. A close friend perished from his injuries and Christian and Stephanie survived the crash with burns covering Stephanie's arms, legs, face, and hands.
She has been featured on
The Oprah Winfrey Show, The Today Show with Matt Lauer,
and the
Glenn Beck
program. Recently
20/20
did a one-hour special highlighting her story and recovery process. In these interviews she explains why she believes she beat the odds of surviving their tragic accident and what life is like with her new appearance and physical limitations.
Stephanie, age twenty-nine, lives in the "tree street" area in Provo, Utah, with her four beautiful children -- Claire, nine; Jane, eight; Oliver, five; and Nicholas, four -- and her handsome husband, Christian, with whom she is madly and relentlessly in love.
Before the accident, Stephanie was a yoga instructor in Arizona and an avid runner. Stephanie also loves to ski and has been a ski instructor at Sundance Resort in Utah. Last winter, Stephanie began skiing for the first time since her accident. Skiing came back to her with triumphant ease!
She and her family are frequently seen on Utah Lake on their sailboat, the
AuroraMark
(the name came from Stephanie's and Christian's middle names).
Stephanie is healthier and happier than ever. She has begun doing yoga again and plans to run in races next year if all goes well. She will have frequent surgeries to release and rebuild areas on her burned skin for most of her life. She is upbeat and is thrilled to be expecting another child.
Although reconstructive surgery is an ongoing requirement, Stephanie maintains a joyful attitude for life and living the roles she loves.
* * * * *
I have always felt close to the Spirit. Ever since I was young, I remember feeling the Spirit. I felt it in my heart, which is why I cried a lot when I was young, especially when I was at church, singing hymns or listening to beautiful music. It moved me even though it was unexplainable. After my baptism I felt the Spirit in my life more than ever, and I was finally able to identify what it was. I enjoyed its constant companionship and the positive effects I felt and loved.
I am so happy to have felt that early in my life. It has blessed me throughout my hardships.
When I had three small children under five years old and was pregnant with my fourth, my father called me his "pioneer girl." I have always loved that. My heritage and ancestry is enormously rich in pioneer history. It was a real honor to be likened to those pioneer ancestors, and I live each day to be just that.
When times are tough, I think about my pioneer forebears, and that gives me immeasurable strength that keeps me moving through the hard times. I think, "If they did it, I can certainly overcome these challenges." That helps me face trial with heart and with a clear mind as to why the Lord has placed them in front of me.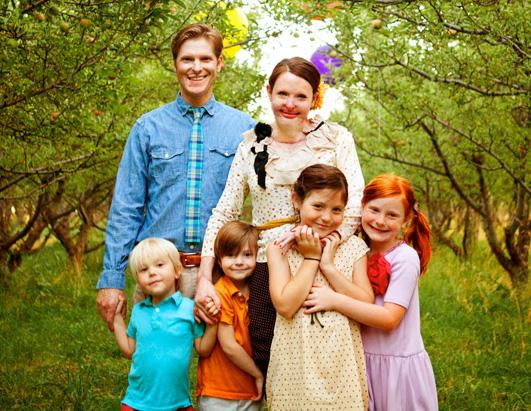 I am who I am because of the women in my life. They have given me great strength and courage and shaped my perspective of what motherhood is all about.
When I received my patriarchal blessing at age sixteen, I was promised that if I learned from my mother and the women of the scriptures, motherhood for me would be a blessing. I will never forget that. It has always stuck with me. I believe it is true, and I hold those women high and would never want to do anything to disappoint them.
I also understand the value of children, who they are, and who I am to them. Being a mother is the greatest job of all. In fact, I wouldn't call it a job; it is an opportunity, an honor to be a mother, especially in this day and age.
I also feel that following the whispering of the Spirit in my life as a mother has helped me enjoy and feel fulfilled being the one whom the children rely on.
Being a Mormon means that I know who I am, I know where I am going, and I know, understand, and love the plan that has been laid out for families, particularly mine.
The Mormon church helps us understand that living as a family is God's plan, and we are taught how to rear our children in righteousness, following the Savior's example. This knowledge has changed the way I teach my children, how serious it it to me that they know and understand good choices versus bad ones and the consequences of each.
I also want my children to understand that it takes hard work to keep going in life sometimes, but there are sweet rewards that we will enjoy -- not just in the end, but during the pain and suffering -- that will come and give us that extra push we need to keep going.
My husband and I have had so many amazing experiences together that all started in the temple when we were sealed. And they have never stopped. They have blessed our life beyond words and continue to do so.
On August 16, 2008, my husband and I, along with a good friend, were in a Cessna four-seater aircraft to travel home from a trip to our family ranch in New Mexico. On takeoff, the plane crashed and burned. My husband had a broken back along with burn injuries to 30 percent of his body. I was trapped in the airplane and was burned over 80 percent of my body, and our friend and pilot, Doug, died. I was placed in a medically induced coma for more than three months to help me try to recover and heal.
From the moment the airplane went up in flames, I was praying. I knew God would never leave me. I knew it then and I still know it now.
I never lost my faith in God or blamed Him, even through my struggles to heal, my multiple surgeries, my physical changes, and the role these all play in my children's lives (and mine). In fact, I am thanking Him every day for this trial. I feel honored to carry it, and I hope I am doing it in a way that is pleasing to Him.
I know the plan. I know what we are doing, and I understand the seriousness of rearing my children in the way the Lord has set for His children. The end, the reward, is worth doing anything and everything I can to make sure my family gets there. Without this knowledge from the Church, it would be unreachable. That is why I'm a Mormon.
---------------------------------------------------
Cannon, Joseph A.
Why I'm a Mormon
. Stevens Point, WI: Worzalla Publishing Co., 2012. 263-267. Print.

Oh... P.S..... Watch!!